Divertente 1 - Week #1
Hi - how are you
After this class you should;
be able to greet others in Italian
be able to ask "how are you" in Italian
be able to say "yes" and "no" in Italian
be able to say "well" or "very well" in Italian
Here are a few other resources (if you are interested) that can assist you in learning Italian words and/or phrases!
Have you seen? - Bella Italia!
The Colosseum in Rome -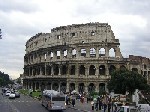 Click on the photo for a larger image
Have you heard? - Some good Italian Music
This song was my first exposure to Italian pop music and to be honest I still love it. I thought it appropriate that I share this song with you for the first lesson of this class. Don't worry about understanding it, just enjoy it!
This and many other
great songs are available on --->
blog comments powered by

Disqus