Divertente 1 - Week #10
Can, want to, have to
After this class you should;
be able to say I can, I have to, I want to in Italian
be able to be able to add some verbs to the above in Italian
Vocabulary

posso
devo
voglio
andare
mangiare
parlare

I can
I must (have to)
I want
to go
to eat
to speak

cenare
venire
ascoltare
studiare
portare
pranzare

to dine
to come
to listen
to study
to bring or carry
to have lunch





Printable Vocabulary
Printable large flash cards (English Side)
Printable large flash cards (Italian Side)
Printable small flash cards (English Side)
Printable small flash cards (Italian Side)
basic online exercise
Exercise (Italian to English)
Exercise (English to Italian)
printable crossword

Comprehension

Downloadable Podcast
Printable Practice Sheets

Class Dialog

Using only the vocabulary we have learned so far, learn how to say everything below in Italian, print it out and bring the printable form of this dialog and be prepared to say the dialog below for one of the person's in class.

Person #1 – Hi ________.
Person #2 – Hi ________. How are you?
Person #1 – I am well, thank you, and you? How are you?
Person #2 – Not too bad.
Person #1 – What are you doing now?
Person #2 – I have to study Italian.
Person #1 – You are studying Italian now? Don't you like to eat?
Person #2 – I want to eat some food but I can't. I have to study Italian.
Person #1 – Really? You are studying Italian now?
Person #2 – Yes! I want to go to Rome and I want to speak Italian! I must study!
Person #1 – You study a lot! I can't study a lot!
Person #2 – You don't study well and your Italian is bad.
Person #1 – Really? My Italian is bad?
Person #2 – Yes you Italian is bad but you make beautiful music!
Person #1 – You study, I can andare to a restaurant and have dinner.
Person #2 – What restaurant? There are many Italian restaurants.
Person #1 – My husband has an Italian restaurant.
Person #2 – Your husband has 11 Italian restaurants!
Person #1 – No, there are 14 restaurants.
Person #2 – Yes my husband has 14 restaurants. I have to go. I have to eat some food.
Person #1 – Goodbye
Person #2 - Goodbye

printable class dialog
Here are a few other resources (if you are interested) that can assist you in learning Italian words and/or phrases!
Have you seen? - Bella Italia!
Florence -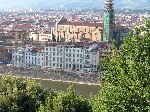 Click on the photo for a larger image
Have you heard? - Some good Italian Music
This NEK song falls a little more into the Rock Ballad category with being so rocky. It's a beautiful song in which he articulates very well meaning it's easier to tell what words he is saying. Enjoy!
This and many other
great songs are available on --->
blog comments powered by

Disqus