Divertente 1 - Week #4
First round of answers
After this class you should be able to understand some answers to these questions;
where somebody is from
somebody's name or if they are married
if somebody speaks, studies or is american or Italian
what somebody does
Here are a few other resources (if you are interested) that can assist you in learning Italian words and/or phrases!
Have you seen? - Bella Italia!
The Island of Capri -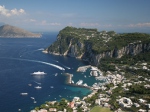 Click on the photo for a larger image
Have you heard? - Some good Italian Music
Here is another one from Sergio Cammariere but it is a lot different from last weeks. Be sure to take the time to check this out. A little smooth, a little jazzy. Maybe you should pour yourself a glass of red first. Enjoy!
This and many other
great songs are available on --->
blog comments powered by

Disqus