Divertente 1 - Week #7
One through twelve
After this class you should;
be able to count to twelve in Italian
Vocabulary

uno
due
tre
quattro
cinque
sei

one
two
three
four
five
six

sette
otto
nove
dieci
undici
dodici

seven
eight
nine
ten
eleven
twelve





Printable Vocabulary
Printable large flash cards (English Side)
Printable large flash cards (Italian Side)
Printable small flash cards (English Side)
Printable small flash cards (Italian Side)
basic online exercise
Exercise (Italian to English)
Exercise (English to Italian)
printable crossword

Comprehension

Downloadable Podcast
Printable Practice Sheets

Class Dialog

Using only the vocabulary we have learned so far, learn how to say everything below in Italian, print it out and bring the printable form of this dialog and be prepared to say the dialog below for one of the person's in class.

Person #1 – Hello Madam.
Person #2 – Hello Madam, how are you?
Person #1 – I am fine, thank you. How are you?
Person #2 – I am very well, thank you very much!
Person #1 – I am sorry, what is your name?
Person #2 – My name is Rosamaria Tortinelli. What is your name?
Person #1 – I am Elisabetta Scambionatta. Are you married?
Person #2 – Yes I am married. Meet my husband, Ralph.
Person #1 – Nice to meet you Ralph, are you Italian?
Person #3 – No, I am not Italian. My wife is Italian.
Person #1 – You speak Italian very well!
Person #3 – Thank you. Are you Italian?
Person #1 – Yes, I am Italian. I work in a restaurant.
Person #3 – Are you married.
Person #1 – No, I am not married but I have 6 children.
Person #3 – You have six children? How old are they?
Person #1 – They are 2, 4, 6, 7, 9 and 11 years old. Do you all have children?
Person #3 – No but I have a restaurant and a dog.
Person #1 – How beautiful.
Person #3 - Goodbye.
Person #3 - Goodbye.

printable class dialog
Here are a few other resources (if you are interested) that can assist you in learning Italian words and/or phrases!
Have you seen? - Bella Italia!
The Island of Burano at Venice -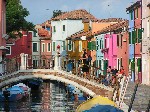 Click on the photo for a larger image
Have you heard? - Some good Italian Music
Anna Tatangelo, a bit of an Italian Sweetheart with a sweet vocal quality. I hope you enjoy this song as much as I do!
This and many other
great songs are available on --->
blog comments powered by

Disqus